In early 2022, Marriott Bonvoy launched the 30 Stays, 300 Days contest to find 3 TikTok Correspondents to travel the world on us. Each winner will create TikToks of their travels for our social channels. Directed these promotional TikToks and the 30 Stays, 300 Days series.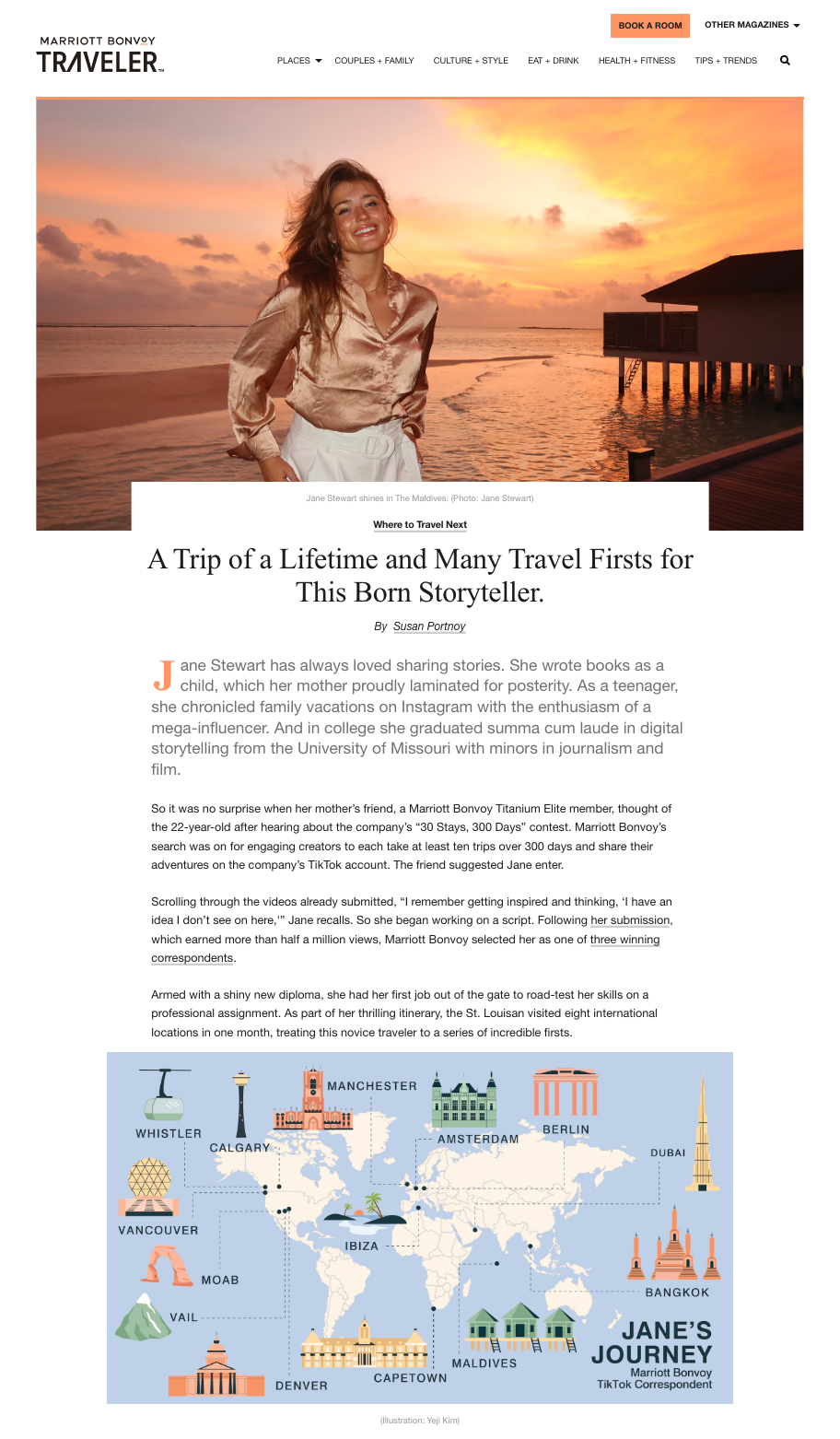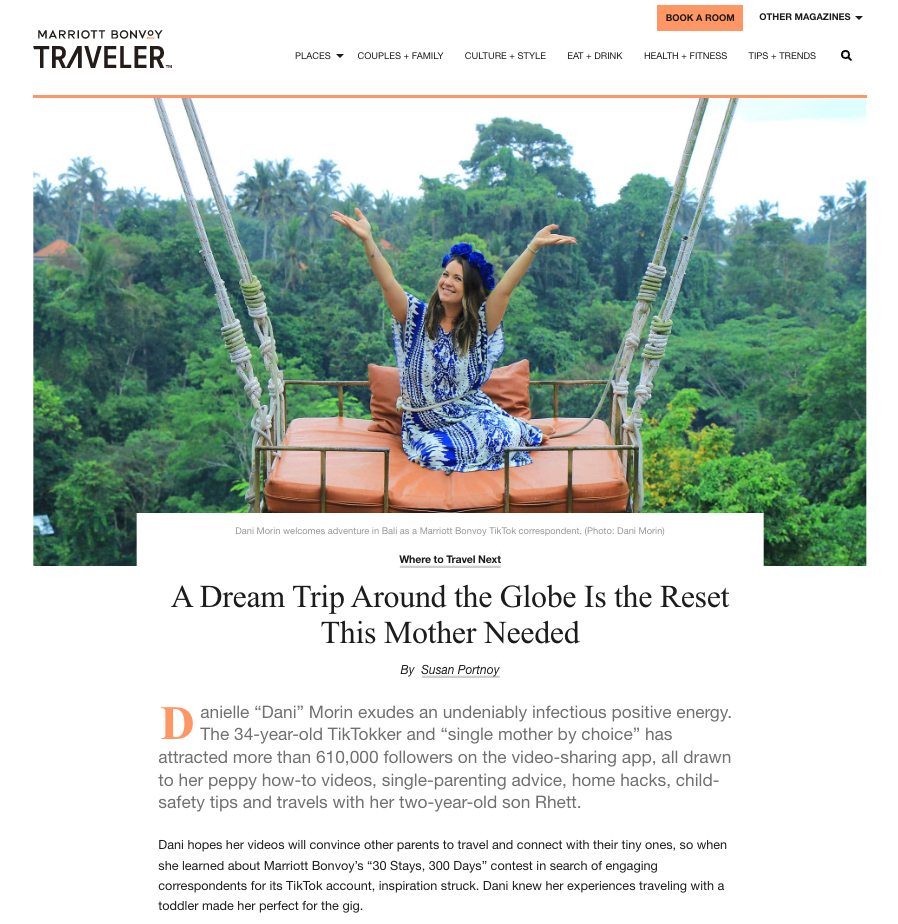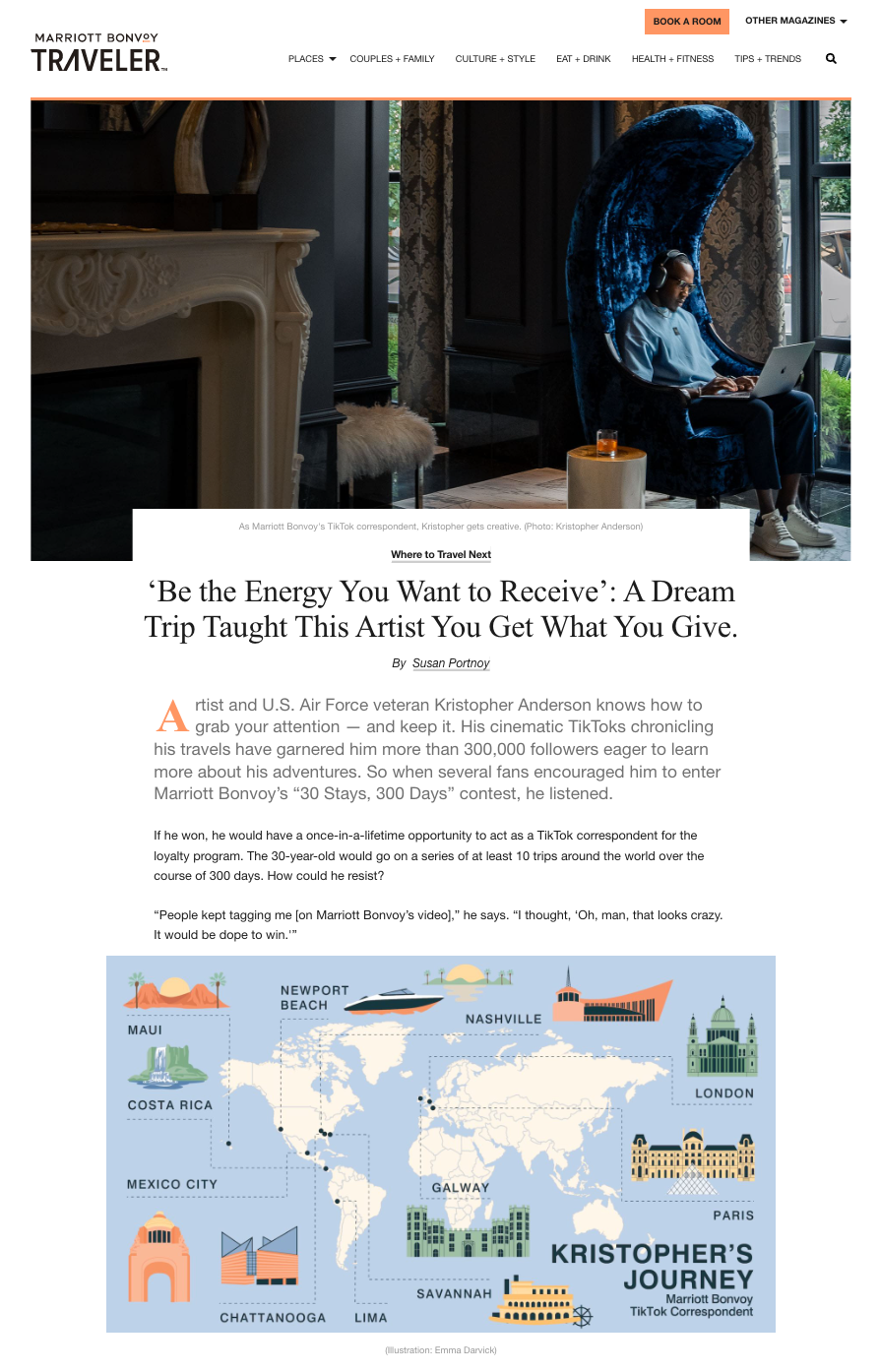 Some show highlights
Cape Town beckons Jane Stewart with stunning landscapes, vibrant culture, and an unforgettable helicopter ride to cherish forever!
Jane experiences Bangkok's river market, temples, and authentic Thai cuisine.
Paradise is found in the Maldives: Jane enjoys the turquoise waters, sandy beaches, and pure bliss!
Thrills in Whistler: Jane soars through the treetops on an adrenaline-pumping ziplining adventure!
Jane immerses herself in Berlin's rich history and vibrant culture.
Jane indulges in the thrill of dune smashing amidst Dubai's sand dunes.
Kristopher embarks on an unforgettable adventure in Maui, finding an extraordinary experience.
Kristopher savored the good life in Paris, embracing the charm and elegance of the city.
Immersed in the enchantment of Galway, Ireland, Kristopher had an unforgettable stay in this Homes & Villas Castle.
During his visit to London, Kristopher had a unique conversation with a local barber, delving into the city's vibrant culture and history
During Kristopher's trip to Newport Beach, California, he and his friends made lasting memories while renting a boat just outside his hotel, Lido House.
Dani, Rhett, and her mom embark on a journey to Bali, where they took in the breathtaking beauty of rice terraces, explored bustling marketplaces, and savored authentic Balinese cuisine.
Dani experiences VIP treatment at a Formula 1 Grand Prix, joining George Russell for an exhilarating hot lap.
Dani explores magical sights and indulges in the captivating architecture of Barcelona.
Dani discovers Zion's rain-soaked wonders, marveling at waterfalls and the heightened beauty of the surroundings.
Dani explores Melbourne's vibrant docklands.
Dani explores Phoenix's art scene, perfect for families seeking creative and enjoyable experiences.
Dani preps for her debut trip as a Marriott Bonvoy TikTokker, sharing essential packing tips along the way.
PROMOTION OF 30 STAYS, 300 DAYS CONTEST
Announcement of the Contest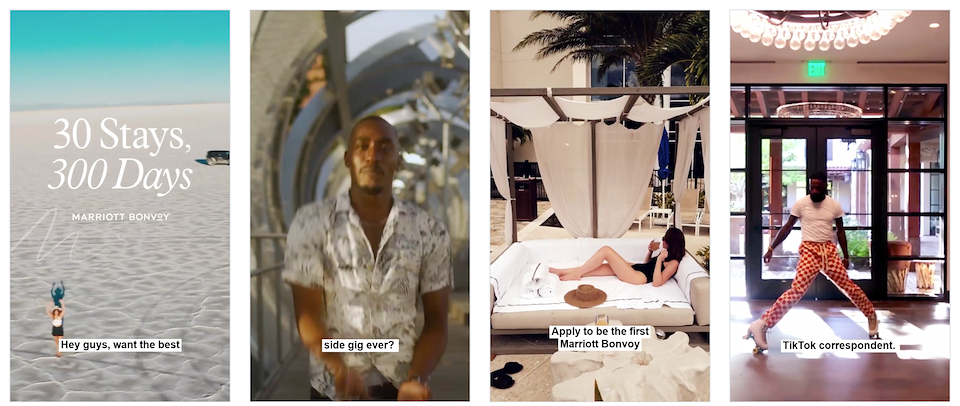 Video Editing / Logo: A. Digiondomenico
Last Chance to Apply. Edited by A. Defrin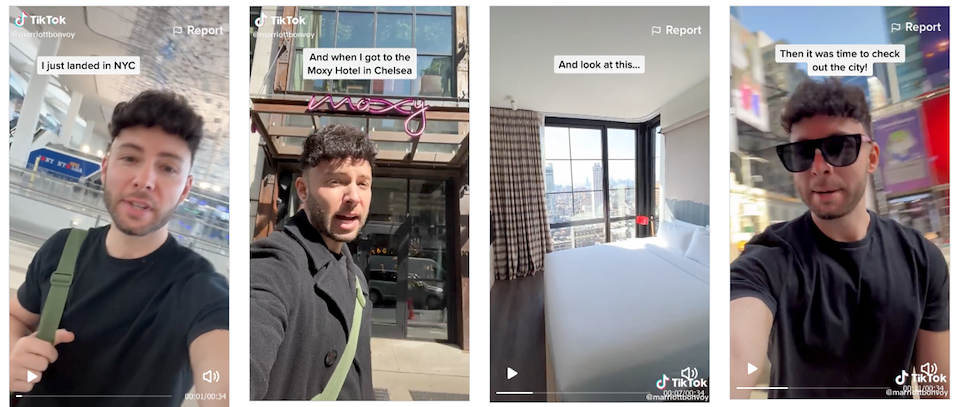 Video Editor: A. Defrin
Thank You for Applying. Video Editor: A. Defrin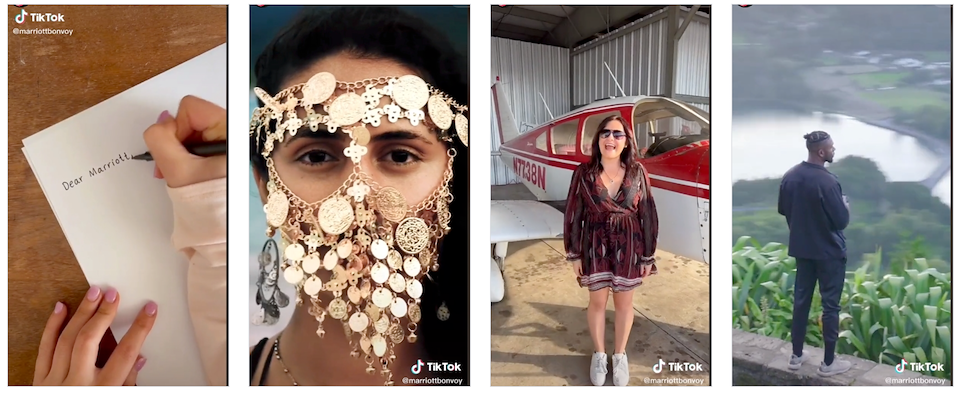 Video Editor: A. Defrin
Announcement of the Three 30 Stays, 300 Days Winners, Video Editor: A. Defrin
The Winners: Dani Morin, Jane Stewart, Kristopher Anderson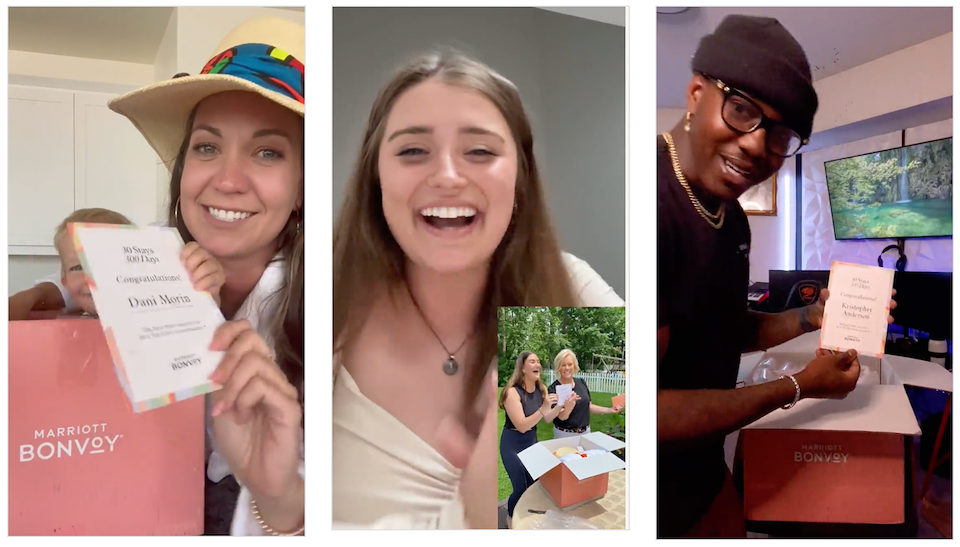 Our 3 Winners, Dani Morin, Jane Stewart, and Kristopher Anderson, receiving our custom gift boxes
Design Materials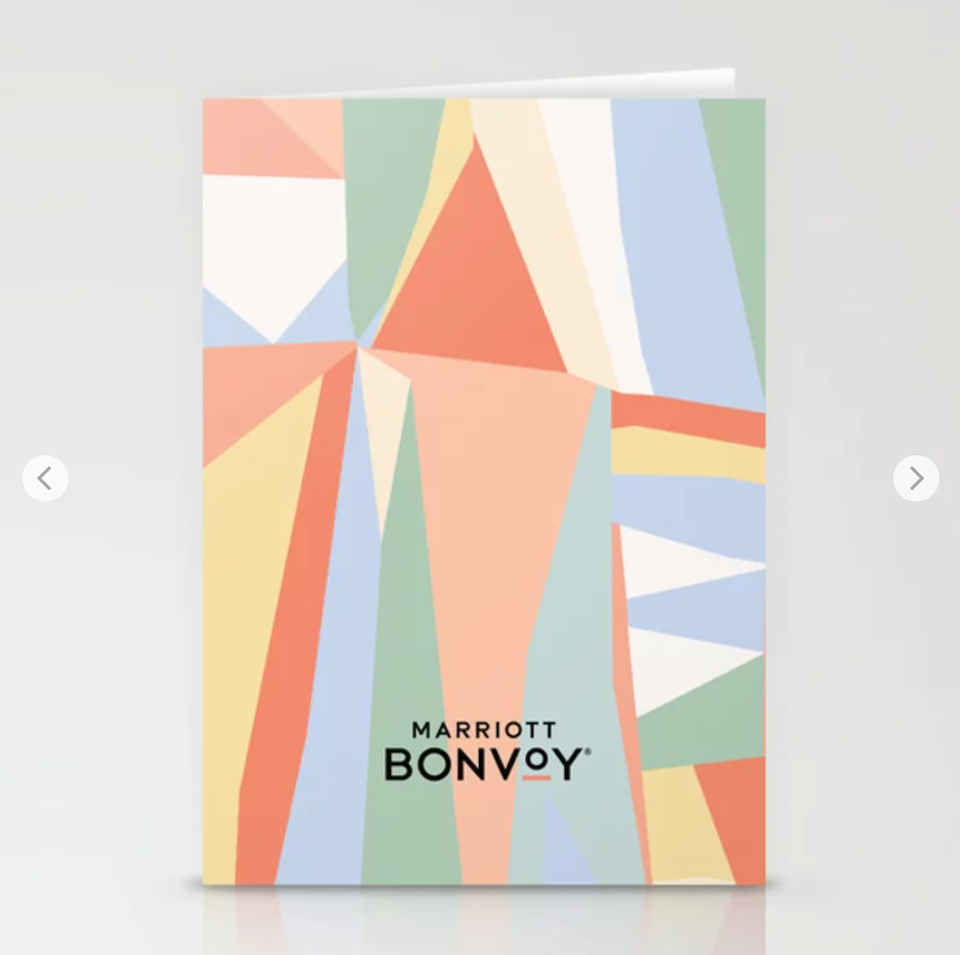 Y.Kim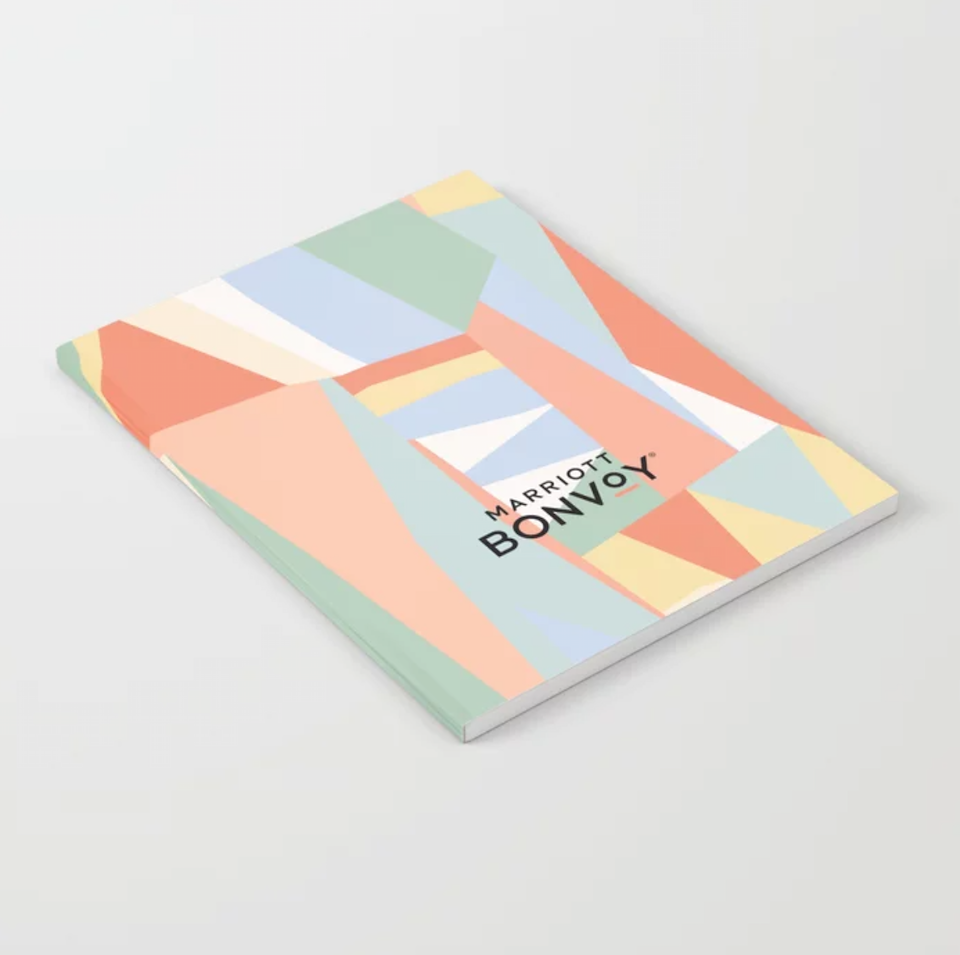 Y. Kim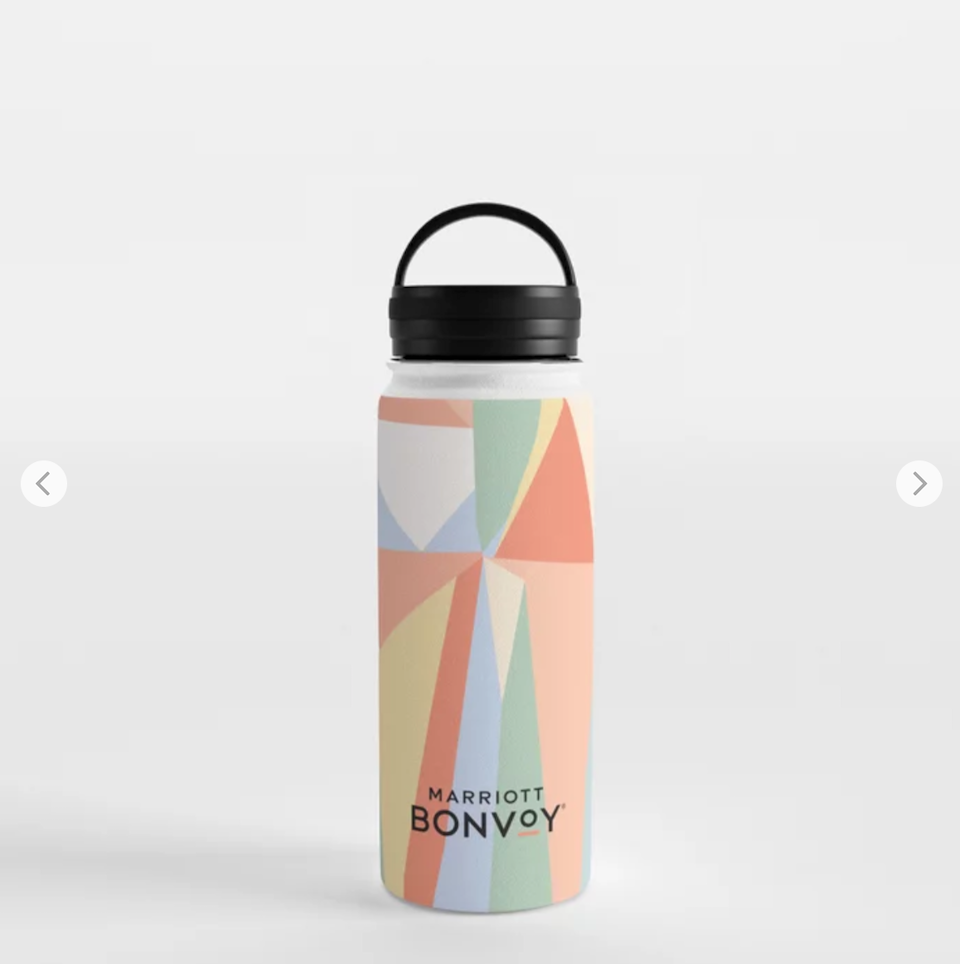 Y. Kim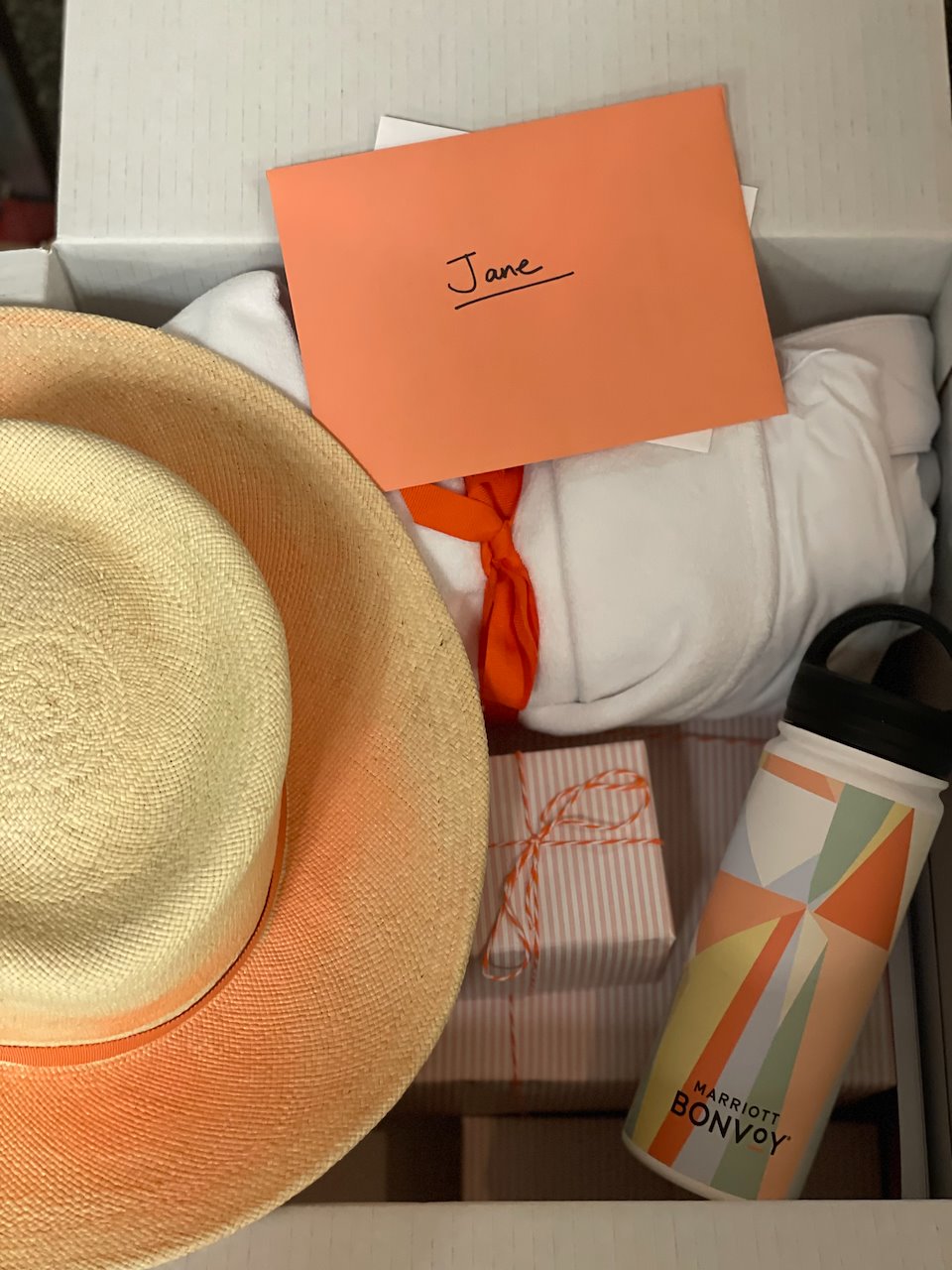 Gift Styling: Rebecca Hart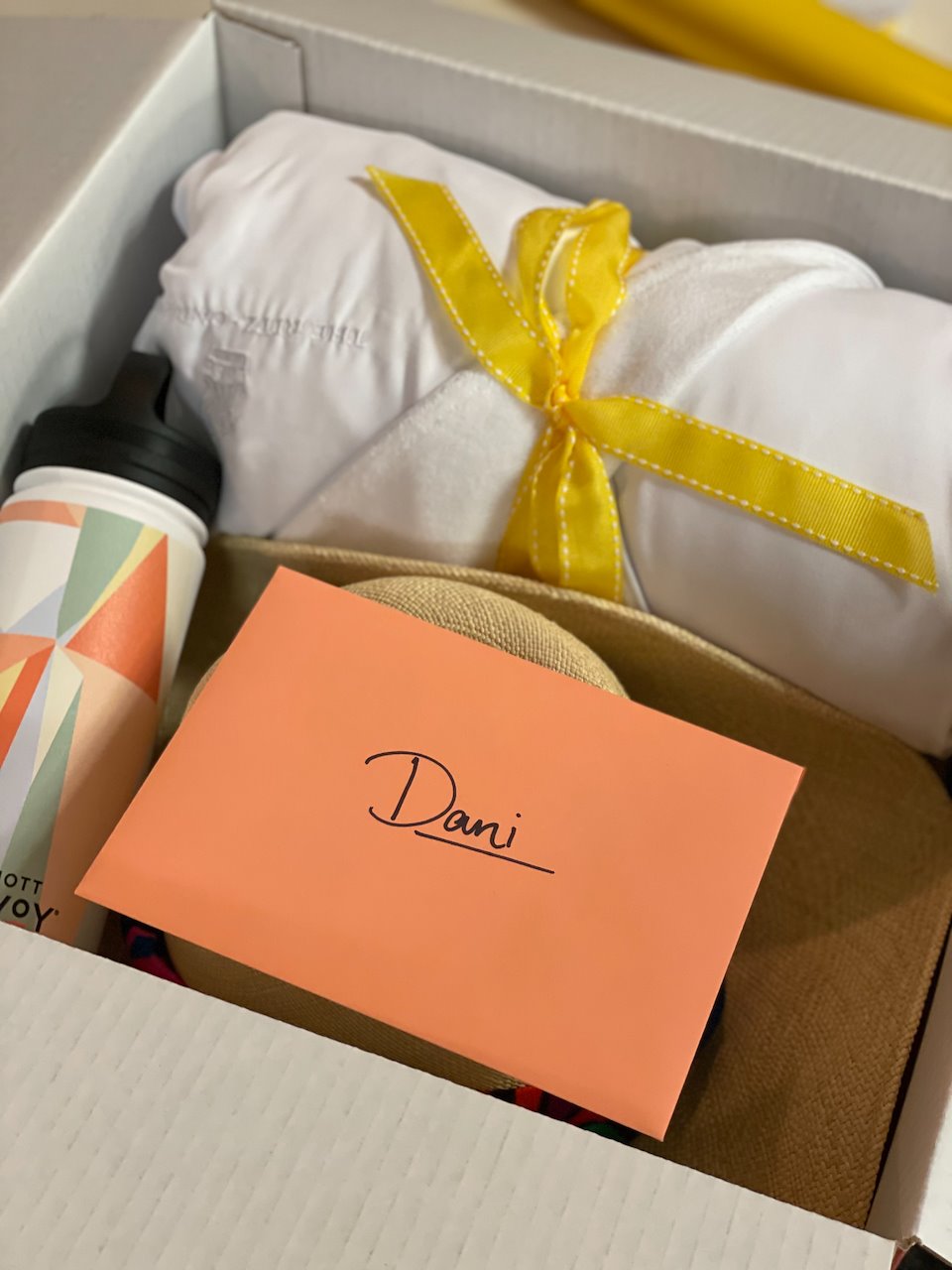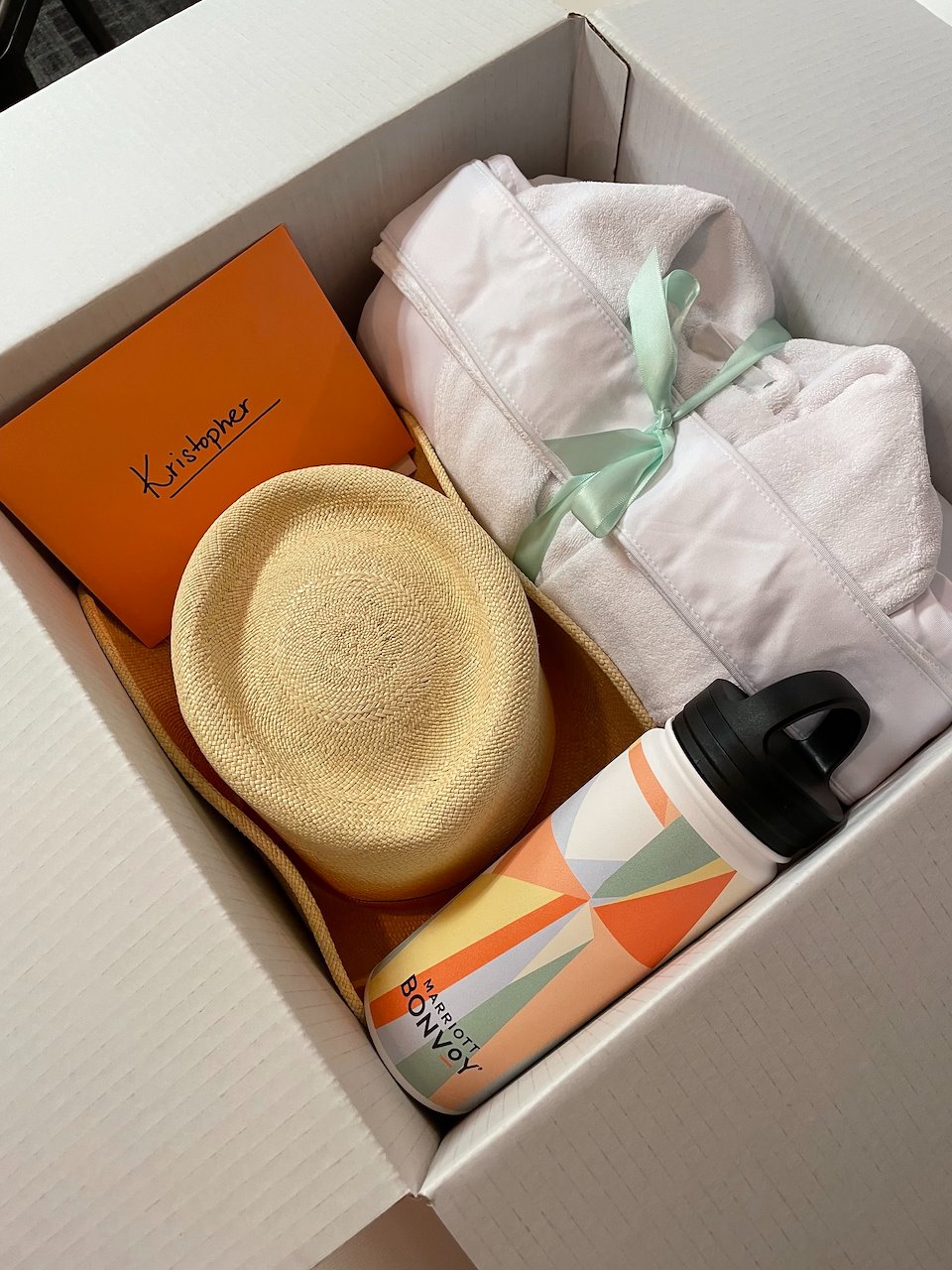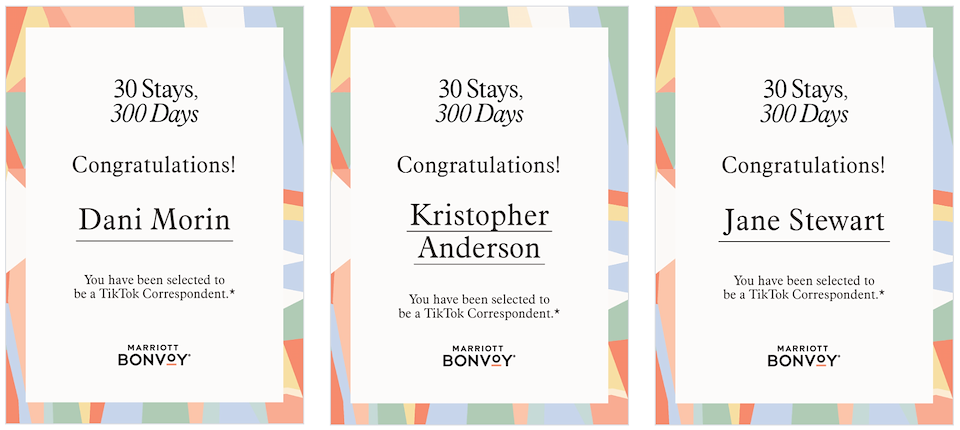 Y. Kim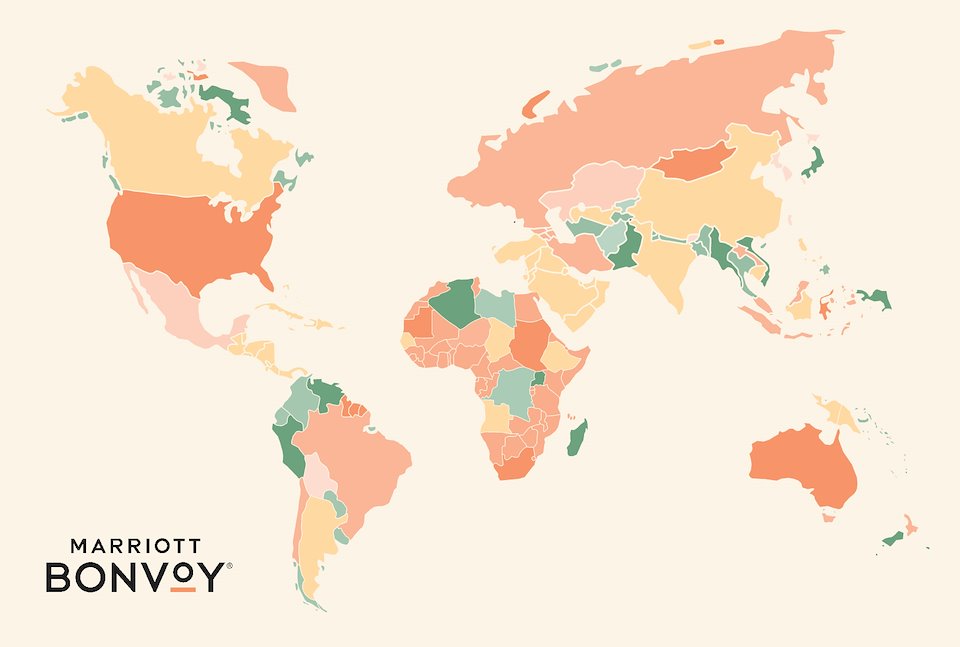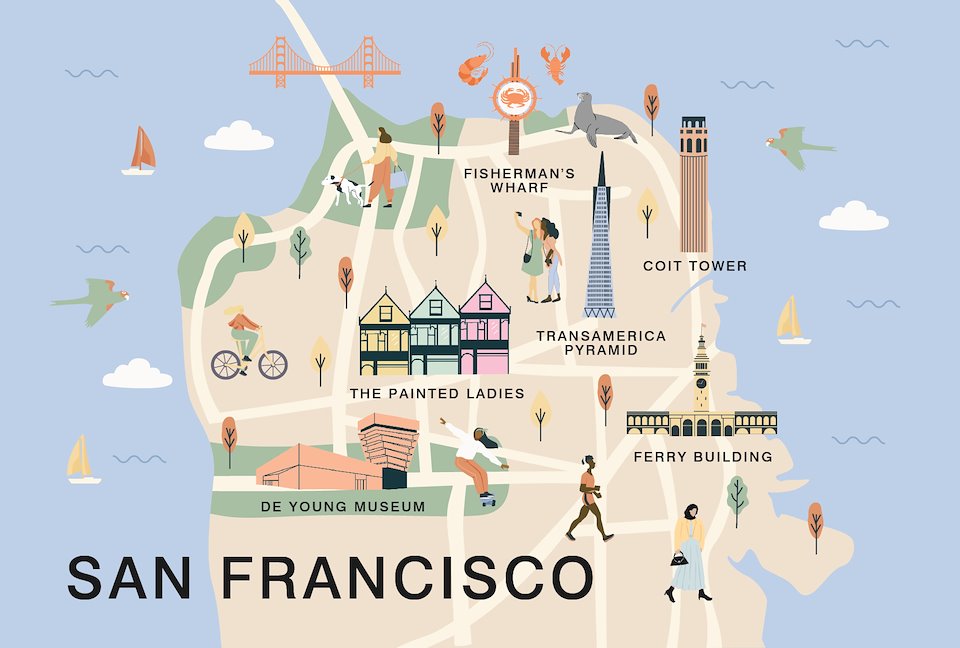 E. Darvick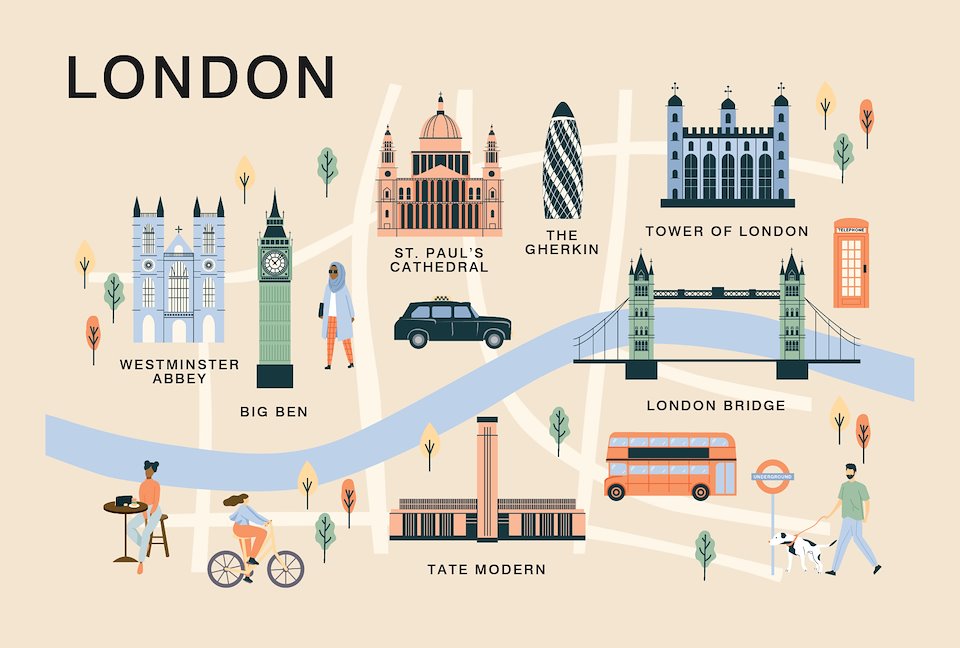 E. Darvick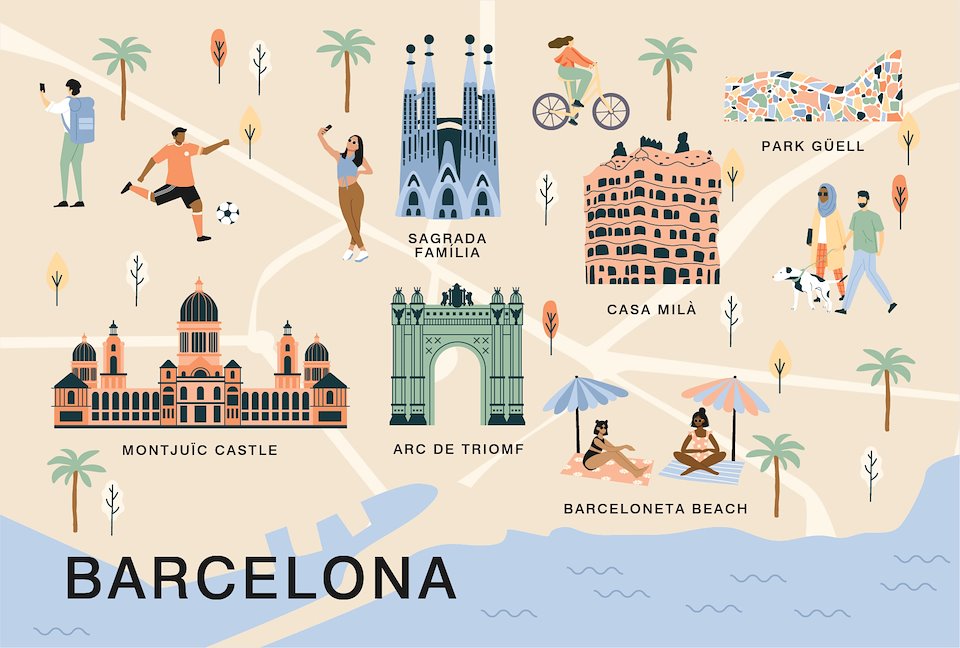 E. Darvick